Introduction
Klarna (or SOFORT) is an online banking payment service which enables you to use e-banking to make quick and secure bank transfers. It can be used by customers who have a bank account in Germany, Austria, Belgium and the United Kingdom.
Klarna Payments is the Klarna product that lets you add any of Klarna's payment methods to your checkout page. Including Pay in Parts, Pay later, Financing, or Direct payment methods.
The product is customizable to fit the flow and design of your specific checkout. Optimized to offer a simple integration and outsource any user interaction required for your customers to complete a purchase with a Klarna payment method.
How does Klarna checkout work?
Klarna Checkout is our complete payment solution where Klarna handles your store's entire checkout. This solution includes all of Klarna's payment methods: Pay now (card payments), Pay in 30 days (invoice), Pay in 3 instalments and Financing (instalment plans of 6, 12, 24 and 36 months with flexible payments).
Klarna Checkout is updated continuously with improvements and functions that increase conversion and make things easier for both you and your customers.
Klarna Checkout Installation and Configuration
Klarna Checkout for WooCommerce is a plugin that extends WooCommerce, allowing you to take payments via Klarna.
Klarna Checkout is available in Austria, Denmark, Finland, Germany, The Netherlands, Norway, Sweden, United Kingdom and the United States.
Requirements
1.WooCommerce 3.7 or newer is required.
2.PHP 5.6 or higher is required.
3.A SSL Certificate is required.
Installation
Go to WordPress Dashboard → Plugins → Add New. Use the search bar on the top right corner to search for 'Klarna Checkout.' Click the Install Now button, and then activate the plugin.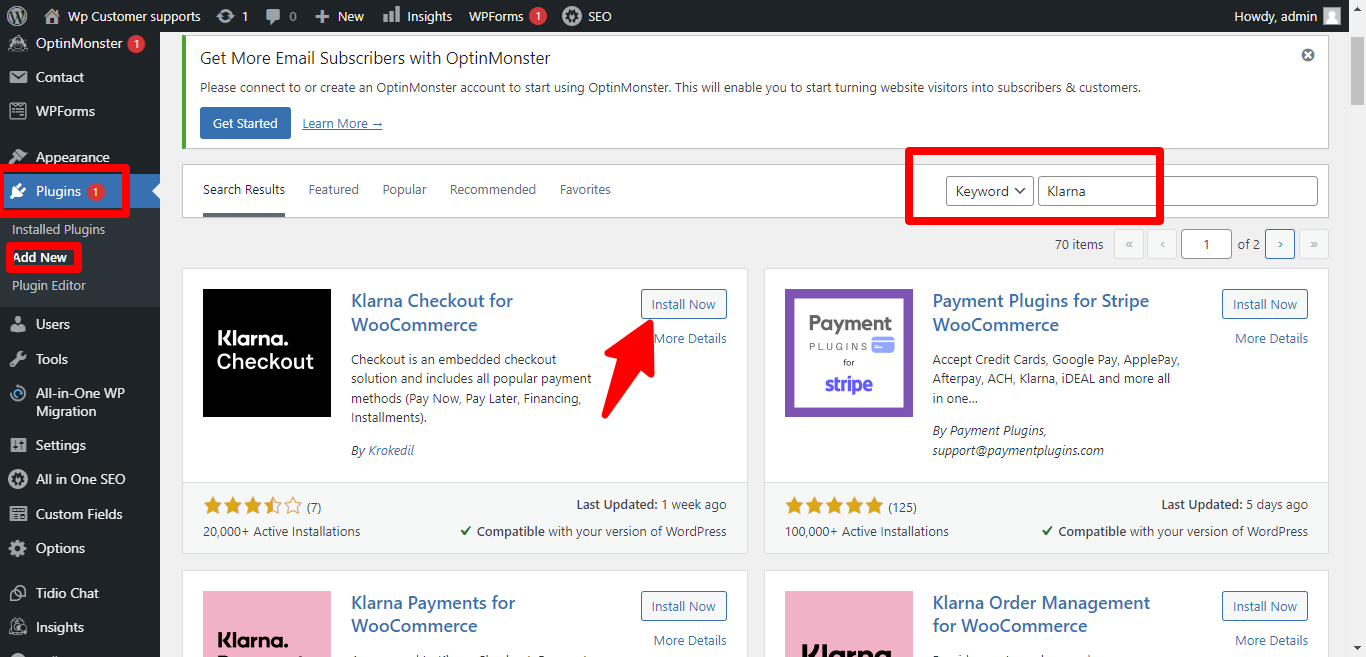 Configuration
Go to: WooCommerce > Settings > Payments > Klarna Checkout.
Enable Klarna Checkout by checking the Enable Klarna Checkout checkbox.
Title – Enter the title for the payment method displayed in the checkout and order confirmation emails
Description – Enter the description of the payment method displayed in the checkout page.
Separate shipping address – Tick this checkbox if you want to allow customers to use a shipping address that is not the same as their billing address.
Other payment method button text – Customize the Select another payment method button text that is displayed in checkout if using other payment methods than Klarna Checkout. Leave blank to use the default (and translatable) text.
Shipping details – Additional shipping information that will be displayed to customers in Klarna Checkout iframe after they have placed an order.
Allowed Customer Types – Select if you want to sell both to consumers and companies or only to one of them (available for SE, NO and FI).
Product URLs – Tick the checkbox if you want to send product and product image URLs to Klarna.
Logging – Logging events in the module. The log can be found by navigating to → WooCommerce → System Status → Logs.
Test mode – Tick the checkbox if you make purchases using a test account.
Date of birth mandatory – Tick this checkbox if you want to make it mandatory for customers to enter their date of birth during checkout.
Based on your store base location and the countries you are selling to, you will use one or both of these sections. By adding merchant credentials to a specific region (Europe or the United States) you also enable Klarna Checkout as an available payment method for that region. Note that you need an agreement with Klarna for each region enabled.
Production username – Username that you received from Klarna.
Production password – Password that you received from Klarna
Test username – Username for test purchases that you received from Klarna (if you have applied for a test account).
Test password – Password for test purchases that you received from Klarna (if you have applied for a test account).
Title mandatory (GB) – Check this to make customer's title mandatory, only works for customers based in GB.
Show prefill consent notice – Check this to prevent logged-in customers' data from being sent to Klarna, only applicable for customers from Germany and Austria.
Offer local payment methods for AT/DE/FI/NL customers – Checking this will offer local payment method to customers from each of these countries. If these options remain unchecked, only card payments will be available for customers from these countries, when checkout out with Klarna Checkout.
Is it Klarna a safe payment gateway?
It positions itself as a 'safe' option and claims that using its services won't damage your credit rating and that you won't be charged fees, even if you are late making payments.
Conclusion
Payment information is processed securely by Klarna. No card details are transferred to or held by the store. All transactions take place via connections secured with the latest industry standard security protocols.